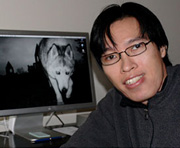 Associate Producer Eric Huang

In 2005, Eric was working as a still-life photographer in Manhattan, when he came across a flyer for a screening of a Tribe of Heart film. The viewing experience affected him deeply. Slowly but surely, issues of conscience began to rise up in his daily work, which often involved photographing fashion items made with the skins of animals. While he had refused to accept work that involved fur for many years, he now stopped photographing items that included leather as well. Eric soon began seriously studying the ethics of the human-animal relationship.
In the spring of 2007, Eric closed his photography studio and moved upstate to Ithaca with the intent of refocusing his life on making a difference for animals. He eventually joined the team at Tribe of Heart, where his diverse artistic talents and technical versatility have made him an integral contributor to our work on Peaceable Kingdom: The Journey Home. The skills Eric developed in his photography career and at Art Center College of Design, combined with his personal integrity and philosophical insight, have brought a new and vibrant energy not just to Tribe of Heart's film projects, but to our outreach efforts and educational programs as well.