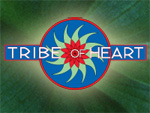 Tribe of Heart is a charitable non-profit production company based in Ithaca, New York, founded in 2000 by filmmakers Jenny Stein and James LaVeck, who were inspired by the idea that "one person's change of heart can change the world."
Tribe of Heart's first film, THE WITNESS, was described by Pulitzer Prize-winning columnist Howard Rosenberg as "one man's truth that cries out for mass exposure...may be the most important and persuasive film about animals ever made." (Los Angeles Times) Their films have gone on to be recognized by festival juries and audience members alike for their authentic and inspiring portrayal of the deeply personal, yet universal, journey of awakening conscience. In each film, individuals grapple with extraordinary moral dilemmas, along the way discovering their own capacity to respond to injustice with creativity and non-violence.
Tribe of Heart's work is also recognized beyond the independent film community for its contribution to the public's understanding of the ethics of the human-animal relationship, with endorseements from Dr. Jane Goodall, The United Federation of Teachers, and the California Teachers Association. Tribe of Heart and its founders received a Distinguished Guardian Award from In Defense of Animals, the Outstanding National Activist Award from the Culture and Animals Foundation, and the Search for Excellence Award from the Latham Foundation for the Promotion of Humane Education.
Tribe of Heart projects are financed, produced, and distributed through the collaborative power of grassroots community.