Jim Vandersluis and Cheri Ezell-Vandersluis



When Cheri Ezell met New England dairy farmer Jim Vandersluis, he was milking cows and she was a hobby farmer with a dream of opening her own goat dairy. Once married, Cheri's dream came true, and they began raising and milking goats at Maple Farm Dairy.
But their idyllic vision would soon crash head-on with the economic realities of animal farming. In order to produce milk, dairy animals are bred every year, leading to more offspring than are needed to maintain the herd's numbers. While Cheri had hoped to sell the baby goats as pets, she finds there are just too many of them, and too few willing adopters. While Jim knows very well what must be done to pay their mounting bills, he finds himself, like Cheri, struggling with feelings of attachment and regret.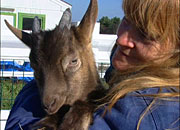 As their inner conflict grows, Cheri and Jim must decide if following farming tradition is worth going against their own instincts and emotions. Just as their friends in the local farming community begin to turn away from them, an unlikely phone call opens a possibility Cheri and Jim had never considered: that they are not alone.
Visit Cheri and Jim's web site: Maple Farm Sanctuary